Sevilla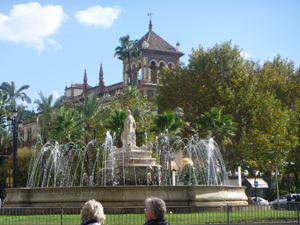 For information about possible programs in Seville contact info@activelearningabroad.org.
Seville is the capital of the region of Andalusia and the fourth largest city in Spain with a total population of 750.000. Rich in history, traditions and popular culture, Seville is very well known for the beauty of its architecture, where Christian and Muslim buildings spread across the city center, its parks and gardens, its holy week, and its flamenco tradition. Seville's famous bullfighting ring, La Maestranza, is for many people the most beautiful in the world. Seville's friendly atmosphere makes it the perfect place to discover the essence of the most common Spanish stereotype, flamencoand bullfights. However, the city is also a modern urban spot where tradition and new tendencies exist side by side.
Connected with Madrid and Barcelona by the high speed train, Seville is an ideal place from which to travel to other Spanish cities. It is also very close to the most Southern part of Spain, and has easy access to both Portugal and North Africa.