Nebrija University
HOST UNIVERSITY
Universidad Nebrija is a private and independent university officially accredited by the Spanish Ministry of Education. The University takes its name from the 15th century humanist who published the first grammar of the Spanish language in 1492. The Centro de Estudios Hispánicos Antonio de Nebrija has three decades of experience in the teaching of and research in Spanish as a Foreign Language. All instructors are native speakers and specialists in Spanish language, literature, history, politics, or art. As a university with an international mission, most of our
degrees are offered in a bilingual mode (Spanish and English). We have both native speakers and Spaniards with experience in multinational firms and institutions, all with years of experience teaching their specializations in English.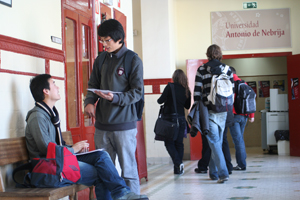 Nebrija is a small university (around 3000 students) with a student-teacher ratio of 10 to 1. Students are given individual attention and facilities are located in Madrid, Princesa Campus, where our programs are taught, with easy access via metro and bus. Nebrija also has two other campuses, Dehesa de La Villa, in the outskirts of the city, and Berzosa, in a natural park area. Nebrija receives more than 500 international students each year and has more than 80 agreements with universities world-wide.
Nebrija University is recognized and accredited by the Spanish Ministry of Education as a granting degree high learning institution.